CLOGGED DRAINS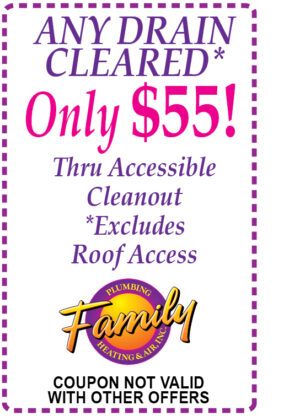 CLOGGED DRAINS are one of the most common plumbing calls and happen most when you least need them… THE HOLIDAYS!
The internet is a wonderful thing, it gives you hundreds of solutions to your problem, and some actually work!  However, clogged drains may not be the cause of holiday over-use but previously clogged or obstructed pipes. After chemical drain cleaners (which you need to advise a plumber to avoid possible injuries), plungers, handheld drain augers, air burst drain cleaners (which can and often burst old/weak plumbing), and other home remedy drain cleaners… Please Give us a call!
At Family Plumbing, Heating & Air, Inc. our special everyday drain unclogging is only $55*  Yes, there's always an asterisk… *Has to be through accessible clean-outs and excludes our technicians having to climb on top of your roof.
After all this you, should be able to clean up after the Thanksgiving Turkey or Christmas Ham. BUT… if not, you may have other issues such as; tree roots obstructing main sewer lines or sewer lines that are broken underground due to many reasons.  We can help!  Through the use of Video Camera Inspection then Trenchless Pipe Repair the professionals here at Family Plumbing, Heating & Air, Inc. can assist you in getting your homes plumbing systems in tip-top running order and without tearing up your front yard!
VIDEO CAMERA INSPECTION

Video Sewer Inspections Determine The Condition of Your Sewer Pipes
There is no need to think about the sewer system when things are good. However, when things are not, it is noticed right away. There are signs that cannot be ignored. The annoying odor suggests that something has gone wrong in the sewer drainage system. A Family Plumbing, Heating & Air, Inc. video sewer inspection can allow the problem area to be discovered. After the video camera inspection is complete we can develop a thorough analysis of the problem area(s) in your sewer drainage system.
Video Camera Inspection Allows Us To See The Problem First Hand
The sewage drainage system is where raw waste from the toilet, sinks and bathtub is drawn away from the home or business. With a Family Plumbing, Heating & Air, Inc. video sewer inspection, the problem or clog can be seen utilizing a closed circuit television system (CCTV).
We can then decide on the best approach to solving the problem.
Trenchless Pipe Repair
High Pressure Water-Jetting
CIPP Replacement Lining
HIGH PRESSURE WATER-JETTING

Video Sewer In

spe

ctions Determine The Condition of Your Sewer Pipes
After a Video Camera Inspection we will be able to see the level of damage in your sewer pipe and the use of High Pressure Water-Jetting may be an option to scour your lines clean.  Though it's unusual for a sewer line on a property to become badly clogged, now and again it may need sewer cleaning or hydro jetting.  In this process, the drains are cleaned by jets of water under such very high pressure that it should only be done by a professional plumbing contractor. Hydro-jetting is most often performed for the sewer lines of commercial buildings whose drain lines have unusual volume, like restaurants, but it can be used for residences as well.
Hydro Jetting Service
Our plumbing professionals are well-versed in hydro-jetting. Our skills and experience are necessary, for the sort of pressure that's needed for properly hydro-jetting which is normally 1,500 to 4,000 psi and can go up to 10,000 psi. During this sort of sewer cleaning, our professionals use a jetting tool in the sewer pipes that sends out jets of water that release and wash out any clogs. Some types of jet tools also rotate to make sure that the pipe is completely cleaned out. The benefits of this type of sewer cleaning are that the pipes don't need to be dug up, which saves our customers a great deal of money.
TRENCHLESS PIPE REPAIR
Go TRENCHLESS and Save Your Yard!
We are trenchless sewer replacement experts. A burst sewer pipe is a very unpleasant experience that leaves many homeowners dreading the repair. Homes in our area sometimes have a hidden danger lurking beneath their property. When an old sewer line gets breached by tree roots seeking a water source the pressure causes the pipe to break. The traditional way to fix this situation is to have a plumbing service come in and dig a deep trench on your property. This trench may destroy portions of your yard or driveway. This is necessary to reach the pipe, however, we know it can be disheartening to watch your well-kept lawn get destroyed.
We Can Provide Trenchless Sewer Replacement
We don't like tearing up your property and that is why we do trenchless sewer replacement. Our trenchless repair service is a great alternative to digging trenches. We use the latest pipe bursting and pipe lining technology that requires only a minimum amount of intrusion into the surrounding ground.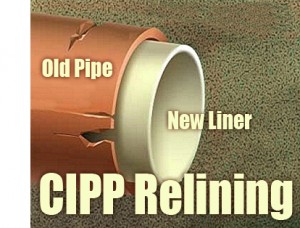 How Does Trenchless Sewer Repair Work?
When you call Family Plumbing, Heating & Air, Inc. we will assess the damage andl let you know exactly where we need to set up in order to gain quick access to the damaged pipe. Fortunately, this type of trenchless sewer repair involves inserting a new pipe while the old pipe is split. The new pipe is inserted through a heavy cable line. The pipe material that we use is extremely durable and made to resist leaks and the intrusion of tree roots.
This whole process takes a lot less time than having to bring in heavy equipment to create a large hole to replace the pipe. Once our experts have fused the new piping system into the ground, they will do a thorough clean up of the entire area. When you contact us for trenchless sewer replacement we'll leave your property in pristine condition.
Trenchless Sewer Repair using the Pipe Bursting Method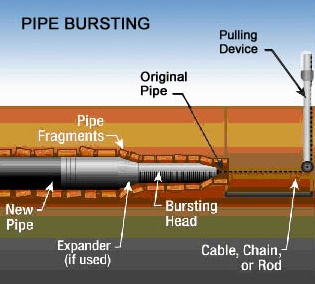 Another method of repairing your sewer main line is with trenchless pipe busting equipment.  No homeowner wants to think about the sewer lines on their property being blocked, but this is an unfortunate event that will occur in many homes throughout the area.  Many homeowners are aware that a sewer pipe has broken somewhere near their home because of an odor on the property or damaged sewer lines interfere with sewer functions inside the home. If you have noticed these or other related signs, one of the best steps that you can take when such an event occurs is to call Family Plumbing, Heating & Air, Inc.  We are pipe bursting/trenchless sewer replacement experts.
One of the unique aspects that sets us apart from your other plumbing repair options is the pipe bursting technology that we utilize. One of the traditional repair processes used by some plumbing companies to repair a blocked sewer line involves excavating the pipes. This process can be costly and can damage your property. With our pipe bursting equipment, however, the blockage can be repaired in a more cost-effective and far less damaging way. In fact, we utilize a trenchless repair process that can most easily and effectively repair issues related to sewer lines that are broken, punctured or collapsed.
With our pipe bursting equipment, typically only two small points are created in your yard. Through these holes, the older pipe is burst, and it is replaced with a new pipe. The new pipe is laid without the need to dig a huge trench in your yard. This will be a highly durable pipe that will provide your home with decades of uninterrupted use. It is imperative to have the best pipe bursting equipment on hand when repairing a damaged sewer line on your property. Our innovative equipment enables us to provide you with the premier results that you desire.